Antibodies to DNA Methyltransferases (Dnmt Family) - FocusOn 089
OriGene Technologies Panel to the Dnmt Family
OriGene Technologies offers a range of monoclonal and polyclonal antibodies to Dnmt1, Dnmt2, Dnmt3a/3b and Dnmt3-like (Dnmt3L) proteins. All antibodies are suitable for Western blot, ELISA and/or immunoprecipitation / immunohistochemistry (see Product list).
Introduction
In mammals, epigenetic information is established and maintained via the postreplicative methylation of cytosine residues by the DNA methyltransferases Dnmt1, Dnmt3a and Dnmt3b.
Dnmt1 is required for maintenance methylation whereas Dnmt3a and Dnmt3b are responsible for de novo methylation. A systematic analysis of interactions among the Dnmt family members has revealed that Dnmt3L interacts with the C-terminal domain of Dnmt3a and Dnmt3b. The interaction between Dnmt3-like (Dnmt3L) and the C-terminal domains of Dnmt3a and Dnmt3b suggests a mechanism whereby the enzymatically inactive Dnmt3L brings about the methylation of its substrate by recruiting an active methylase. Quantitative analysis of genomic cytosine methylation levels demonstrated a robust Dnmt activity for the methyltransferases Dnmt3a and Dnmt3b. In addition, a weak but significant activity for Dnmt2 has been detected. Subsequent methylation tract analysis by genomic bisulphite sequencing reveals that Dnmt3 enzymes preferentially methylate CpG dinucleotides in a processive manner, whereas Dnmt2 methylates isolated cytosine residues in a non-CpG dinucleotide context.
Inappropriate over-expression of Dnmt can lead to inadequate methylation of DNA and thus, misregulation of the cell's genes. If, for example, inappropriate methylation occurs on tumour suppressor genes, expression of the tumour suppressor genes is turned off, and cancer may develop. The methylation of tumour suppressor genes has been observed to occur in a wide variety of human cancers.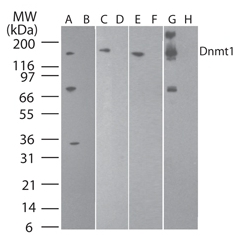 Fig. 1: Western blot analysis of Dnmt1 in 2102EP (human embryonic carcinoma): in A) absence and B) presence of immunizing peptide; recombinant human Dnmt1 protein in the C) absence and D) presence of immunizing peptide; NIH 3T3 (mouse embryonic fribroblast) in the E) absence and F) presence of immunizing peptide; D3 (mouse embryonic stem cell) in the G) absence and H) presence of immunizing peptide using Dnmt1 antibody Cat.-No. SM7026P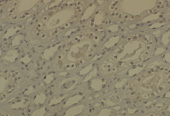 Fig. 2: IHC analysis of Dnmt1 using Cat.-No. SM7026P at 2 µg/ml on formalin-fixed, paraffin-embedded (FFPE) medullar kidney tissue sections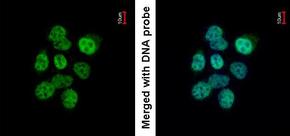 Fig. 3: Immunofluorescence analysis of paraformaldehyde-fixed A431, using Dnmt1 antibody Cat.-No. AP22393PU-N at 1/200 dilution (right figure merged with DNA probe)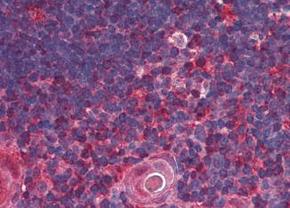 Fig. 4: Staining of human thymus (FFPE) using Dnmt2 antibody Cat.-No. SM7027P at 5 µg/ml followed by biotinylated secondary antibody, alkaline phosphatase-streptavidin and chromogen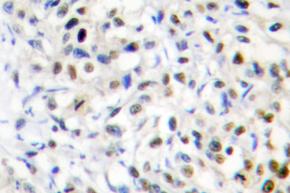 Fig. 5: Immunohistochemistry analysis of Dnmt3b Cat.-No. AP01182PU-N in human liver carcinoma tissue (FFPE)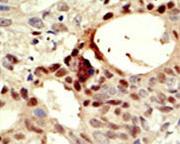 Fig. 6: Staining of human cancer tissue (FFPE) with Dnmt3L antibody Cat.-No. AP11060PU-N using peroxidase-conjugated secondary antibody followed by DAB staining
Key references
 

Cheng X et al: Mammalian DNA methyltransferases: a structural perspective.
Structure, Mar 2008; 16(3): 341-50.

 

Mund C et al: Comparative analysis of DNA methylation patterns in transgenic drosophila overexpressing mouse DNA methyltransferases.
Biochem J, Mar 2004; 15, 378 (Pt3): 763-8.

 

Margot JB et al: Interactions within the mammalian methyltransferase family.
BMC Mol Biol, May 2003; 30: 4-7.

 

Liu K et al: Endogenous assays of DNA methyltransferases: Evidence for differential activities of Dnmt1, Dnmt2, and Dnmt3 in mammalian cells in vivo.
Mol Cell Biol, Apr 2003; 23(8): 2709-19.

 

Kareta MS et al: Reconstitution and mechanism of the stimulation of de novo methylation by human Dnmt3L.
J Biol Chem, Sep 2006; 8, 281(36): 25893-902.
Primary Antibodies
Catalog No.
Host
Iso.
Clone
Pres.
React.
Applications

AP07907PU-N

Rabbit
Purified
Hu
E, P

OriGene Technologies GmbH

AP09035AF-N

Chicken
IgY
Azide Free
Hu
P, WB

OriGene Technologies GmbH

+1 additional image

AP11029PU-N

Rabbit
Ig
Purified
Hu, Ms
P, WB

OriGene Technologies GmbH

+1 additional image

AP11072PU-N

Rabbit
Ig
Purified
Hu, Ms
P, WB

OriGene Technologies GmbH

+1 additional image

AP11049PU-N

Rabbit
Ig
Purified
Hu
P, WB

OriGene Technologies GmbH

+1 additional image

AP11051PU-N

Rabbit
Ig
Purified
Hu
P, WB

OriGene Technologies GmbH

+1 additional image

AP01182PU-N

Rabbit
Aff - Purified
Hu
P, WB

OriGene Technologies GmbH

+1 additional image

AP11052PU-N

Rabbit
Ig
Purified
Hu
P, WB

OriGene Technologies GmbH

+2 additional images

AP07908PU-N

Rabbit
Purified
Hu
E, P

OriGene Technologies GmbH

AP11060PU-N

Rabbit
Ig
Purified
Hu
P, WB

OriGene Technologies GmbH

+1 additional image