Antibodies to Estrogen Receptors - FocusOn 050
Introduction
Steroid receptors are ligand-dependent intracellular proteins that stimulate transcription of genes by binding to specific DNA sequences following activation by the appropriate hormone.
Estrogen steroid receptor (
ESR

)

This protein was first cloned in 1987 and has been shown to be expressed and transcriptionally active in a number of tissues including ovary, testis, prostate and brain. Besides the 'classical' ESR (ER alpha or ESR1) a second estrogen binding receptor, referred to as ER beta or ESR2, has been cloned in rats and humans.
ER alpha (ESR1) is known to interact in a ligand dependent and indepen-dent manner with several known coactivators including receptor-interacting protein 140 (RIP140/ERAP140), ERAP160 and steroid receptor co-activator-1 (SRC-1) to enhance transcriptional activity of target genes.
ER beta (ESR2) has been shown to be a high affinity estrogen binding protein capable of initiating transcription of genes under the control of estrogen response elements. RNA distribution studies have shown ESR2 is transcribed in human thymus, spleen, ovary and testis as well as in rat ovary and prostate. ER beta protein distribution may differ from RNA distribution and from ER alpha protein. Several isoforms of ER beta are known so far. The major differences between these splice variants were found in the C-terminal domain aa 459-530. These differ also in tissue expression: isoform beta 1 is expressed in testis and ovary, and at a lower level in heart, brain, placenta, liver, skeletal muscle, spleen, thymus, prostate, colon, bone marrow, mammary gland and uterus. Also found in uterine, bone, breast and ovarian tumor cell lines, but not in colon and liver tumors. Isoform beta 2 is expressed in spleen, thymus, testis and ovary and at a lower level in skeletal muscle, prostate, colon, small intestine, leukocytes, bone marrow, mammary gland and uterus. Isoform beta 3 is found in testis. Isoform beta 4 is expressed in testis, and at a lower level in spleen, thymus, ovary, mammary gland and uterus.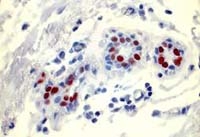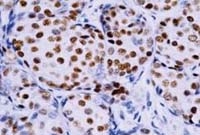 Estrogen-related receptor (
ERR

) family members (1, 2, and 3)

These proteins share an almost identical DNA binding domain, which has 68% amino acid identity with that of estrogen receptor.
Estrogen-related receptor alpha (ESRRA, ERR1) acts as a site-specific transcription regulator and has also been shown to interact with estrogen and the transcripton factor TFIIB by direct protein-protein contact. The binding and regulatory activities of this protein have been demonstrated in the regulation of a variety of genes including lactoferrin, osteopontin, medium-chain acyl-coenzyme A dehydrogenase (MCAD) and thyroid hormone receptor genes.
Estrogen-related receptor beta (ESRRB, ERR2) encodes a protein with similarity to the estrogen receptor with unknown function. Estrogen-related receptor gamma (ESRRG, ERR3) has been suggested to affect differentiation of the brain, heart and kidney. ERR gamma has been shown to be overexpressed in breast tumors, and its expression is correlated with levels of ErbB4, a likely indicator of preferred clinical course. As a result, ERR gamma has been suggested to be a potential biomarker for favourable clinical course and, possibly, hormonal sensitivity, and as a candidate target for therapeutic development.
| | |
| --- | --- |
| | |
References
Saunders, T.K. et al. (2000)
Differential expression of estrogen receptor-alpha and -beta and androgen receptor in the ovaries of marmosets and humans. Biol Reprod 63: 1098-1105.
Torlakovic, E. et al. (2002)
Prostate carcinoma expression of estrogen receptor-beta as detected by PPG5/10 antibody has postive association with primary Gleason grade and Gleason score. Pathology 33: 646-651.
Saunders P. et al. (2002)
ER beta 1 and the ER beta 2 splice variant (ER beta CX/ beta 2) are expressed in distinct cell populations in the adult human testes. J Clin Endocrinol Metab 87:2706-2715.
Critchley T. et al. (2002)
Wild Type estrogen receptor (ER beta 1) and the splice variant (ER beta CX/ beta 2) are expressed within the human endometrium throughout the normal menstrual cycle. J Clin Endocrinol Metab 87:5265-5273.
Gaskell T. et al. (2003)
Differential expression of two estrogen receptor beta isoforms in the human fetal testis during the second trimester of pregnancy. J Clin Endocrinol Metab 88:424-432.
Scobie G. et al. (2002)
Human oestrogen receptors: differential expression of ER alpha and beta and the identification of ER beta variations. Steroids 67:985-995.
Primary Antibodies
Catalog No.
Host
Iso.
Clone
Pres.
React.
Applications

SM1715S

Mouse
IgG1
6F11
Supernatant
Hu
C, IP, P, WB

OriGene Technologies GmbH

Published recently!

AP02370PU-N

Rabbit
Aff - Purified
Hu
ICC/IF, P, WB

OriGene Technologies GmbH

+3 additional images

Highly validated antibody!

AP02368PU-N

Rabbit
Aff - Purified
Hu
P, WB

OriGene Technologies GmbH

+1 additional image

AP02369PU-N

Rabbit
Aff - Purified
Hu
ICC/IF, P, WB

OriGene Technologies GmbH

+2 additional images

AP02371PU-N

Rabbit
Aff - Purified
Hu, Ms
ICC/IF, P, WB

OriGene Technologies GmbH

+2 additional images

AP23349PU-N

Rabbit
IgG
Aff - Purified
Hu, Ms, Rt
WB

OriGene Technologies GmbH

AP06980PU-N

Rabbit
Aff - Purified
Bov, Bt, Can, Elephant, Eq, Hst, Hu, Mky, Ms, Platypus, Rb, Rt
E, P

OriGene Technologies GmbH