Antibodies to Human Macrophages - FocusOn 027
Blood monocytes are young cells that already possess migratory, chemotactic, pinocytic and phagocytic activities, as well as receptors for IgG Fc-domains (FcR) and iC3b complement. Under migration into tissues, monocytes undergo further differentiation to become multifunctional tissue macrophages. For many research projects it is important to differentiate cells of the monocyte/macrophage lineage. Some macrophage specific proteins and specific clones useful for such an application are presented in the table below.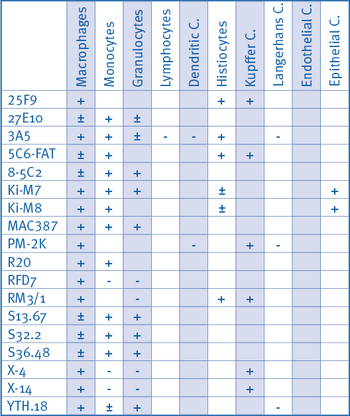 Tab. 1: Cell reactivity pattern of some monocyte/macrophage antibodies
AIF-1
Allograft Inflammatory Factor-1 is a Ca2+-binding peptide produced by activated macrophages and microglial cells. AIF-1, like the peptides MRP8 and MRP14, is expressed by activated macrophages and might participate in a variety of pathogenic processes in the mammalian brain and in chronic transplant rejection.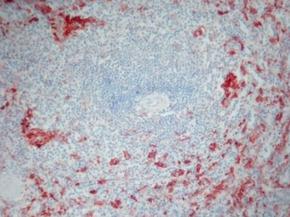 Fig. 1: Staining of formalin-fixed, paraffin-embedded (FFPE) human spleen sections with AIF1 antibody Cat.-No. BM4114
CD163
Clone RM3/1 (BM4021) recognises the late stage inflammatory macro- phages scavenger receptor (CD163), a membrane glycoprotein on human monocytes and macrophages which is expressed in the intermediate and late phase of inflammation. The antigen is a member of the scavenger re- ceptor family. CD163 is significantly up-regulated by glucocorticoids while it is down-regulated by cyclosporin A and by phorbol esters. An important function of CD163 seems to be in the adhesion of monocytes to activated endothelial cells. RM3/1-positive cells include skin histiocytes, Kupffer cells, spleen macrophages of the red pulp, and some thymus macro- phages. The antigen is found abundantly in human term placenta, and regularly in acute and chronic inflammatory lesions. A different epitope of the same antigen is recognised by antibody Ki-M8 (BM4112). RM3/1 is useful for macrophage phenotyping, for the classification of intermedi- ate inflammatory stages in tissue sections and cell smears (together with clones 27E10 (BM4025) and 25F9 (BM4022)), for the characterization of tumorous tissues, and monitoring of macrophage cell cultures.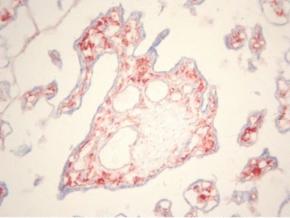 Fig. 2: Frozen human placenta, stained withCD163 clone RM3/1 Cat.-No. BM4021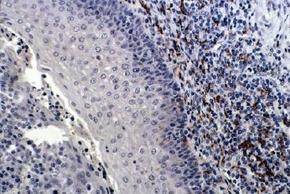 Fig. 3: Staining of human tonsil sections (FFPE) with CD163 antibody clone 5C6-FAT Cat.-No. BM4041
CD68
CD68 could play a role in phagocytic activities of tissue macrophages, both in intracellular lysosomal metabolism and extracellular cell-cell and cell-pathogen interactions. Binds to tissue- and organ-specific lectins or selectins, allowing homing of macrophage subsets to particular sites. Rapid recirculation of CD68 from endosomes and lysosomes to the plasma membrane may allow macrophages to crawl over selectin-bearing sub- strates or other cells. Highly expressed by blood monocytes and tissue macrophages CD68 is also expressed in lymphocytes, fibroblasts, endo- thelial cells and in many tumor cell lines which could allow them to attach to selectins on vascular endothelium, facilitating their dissemination to secondary sites.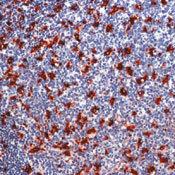 Fig. 4: Human tonsil (FFPE) stained with CD68 antibody clone KP1 Cat.-No. DM167
MRP8/14 (S100A8/S100A9)
There are several antibodies available now to detect MIF Related Proteins [MRP; Clones 27E10 (BM4025), MAC387 (SM2011P), 8-5C2 (BM4028), S13.67 (BM4029), S36.48 (BM4026) and S32.2 (BM4027)], which are ex- tremely useful in the analysis of several disease conditions, particularly in the inflammatory diseases and certain microbial infections, as well as neoplastic conditions. Clinically relevant is especially the detection of MRP8/14 in certain autoimmune conditions and transplant rejection. MRP8 (Calgranulin A, 10.8 kDa) and MRP14 (Calgranulin B, 13.2 kDa) belong to the S-100 protein family (S100A8 and S100A9) and can form Ca2+ dependent homo- or hetero-complexes of various composition. The MRP8/14 heterocomplex is also known as Calprotectin, L1 Protein (not related to the neural adhesion molecule L1) and cystic fibrosis antigen. MRP8/14 is found in cells, tissues, and fluids in all parts of the human body. It is mainly a myelomonocyte and keratinocyte protein. In neu- trophils MRP8/14 is located in the extralysosomal cytosol in concentra- tions estimated at 5-15 mg/ml, which corresponds to about 5% of total proteins in neutrophils. Numerous biological functions can be attributed to MRP8 and 14. The S-100 like structure and the calcium dependent as- sociation to cytoskeleton structures suggest intracellular signal trans- duction functions. The antimicrobial function of MRP8/14 has been well documented. While MRP8 is chemotactic for neutrophils, MRP14 seems to have just the opposite effect. Most important however, the presence of MRP8/14 in acute, and its absence in chronic inflammation is an excellent tool in assessing a vast number of pathological conditions.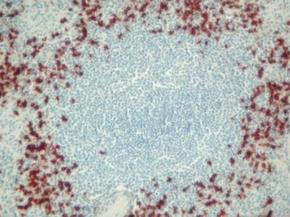 Fig. 5: Immunohistochemical staining of human spleen sections (FFPE) using S100A9 antibody clone S36.48 Cat.-No. BM4026
Clone YTH 8.18
is reactive with all tissue macrophages, binding to a cytoplasmic epitope. In peripheral blood the antibody stains all granulocytes and around 50% of monocytes. No staining of osteoclasts or Langerhans' cells is seen.
Clone RFD7
recognises an antigen which is predominantly expressed cytoplasmically in mature tissue phagocytes. RFD7 is co-expressed with RFD1 on suppres- sive macrophages. RFD7 does not react with circulating monocytes or any cells within the granulocyte series.
Clone PM-2K
recognises tissue macrophages and macrophages in prolifera- tive disorders of macrophages. PM-2K is one of the markers that, being negative on dendritic cells, can differentiate between macrophages and dendritic cells.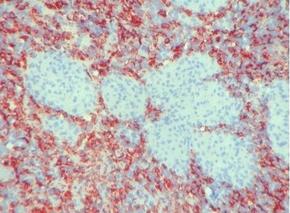 Fig. 6: Staining of swine spleen frozen sections using macrophages antibody clone PM-2K Cat.-No. BM4037
Please refer also to other FocusOns in this series about Macrophages
Primary Antibodies
Catalog No.
Host
Iso.
Clone
Pres.
React.
Applications

AP08793PU-N

Goat
IgG
Aff - Purified
Elephant, Hu
E, P, WB

OriGene Technologies GmbH

+1 additional image

AP08912PU-N

Goat
IgG
Aff - Purified
Elephant, Hst, Hu, Mky, Ms, Platypus, Por, Rt
E, P, WB

OriGene Technologies GmbH

+1 additional image

BM4114

Mouse
IgG2b
1022-5
Aff - Purified
Hu, Por, Rt
P

OriGene Technologies GmbH

+1 additional image

BM4114B

Mouse
IgG2b
1022-5
Biotin
Hu, Por, Rt
P

OriGene Technologies GmbH

BM4114F

Mouse
IgG2b
1022-5
FITC
Hu, Por, Rt
F, P

OriGene Technologies GmbH

BM4111F

Mouse
IgG1
Ki-M7
FITC
Hu
F

OriGene Technologies GmbH

DM094

Mouse
IgG3
PG-M1
Supernatant
Hu
P

OriGene Technologies GmbH

DM094-05

Mouse
IgG3
PG-M1
Supernatant
Hu
P

OriGene Technologies GmbH

BM4041B

Mouse
IgG1
5C6-FAT
Biotin
Hu
C, F, P, WB

OriGene Technologies GmbH

Published recently!

BM4041F

Mouse
IgG1
5C6-FAT
FITC
Hu
F

OriGene Technologies GmbH

Published recently!

BM4041

Mouse
IgG1
5C6-FAT
Purified
Hu
C, E, F, P, WB

OriGene Technologies GmbH

+3 additional images

Highly validated antibody!

BM4041X

Mouse
IgG1
5C6-FAT
Purified
Hu
C, E, F, P, WB

OriGene Technologies GmbH

+3 additional images

Highly validated antibody!

BM4021

Mouse
IgG1
RM3/1
Purified
Hu, Mky
C, F, WB

OriGene Technologies GmbH

BM4041PE

Mouse
IgG1
5C6-FAT
PE
Hu
F

OriGene Technologies GmbH

BM4112

Mouse
IgG1
Ki-M8
Purified
Hu
C, F, WB

OriGene Technologies GmbH

SM1219T

Mouse
IgG2b
3A5
Supernatant
Hu
C, P

OriGene Technologies GmbH

AM32128PU-N

Mouse
IgM
LN-5
Purified
Hu
C, P

OriGene Technologies GmbH

BM4022

Mouse
IgG1
25F9
Purified
Hu
C, P

OriGene Technologies GmbH

+1 additional image

BM4022B

Mouse
IgG1
25F9
Biotin
Hu
C, P

OriGene Technologies GmbH

BM4022BS

Mouse
IgG1
25F9
Biotin
Hu, Mky
C, F, P, WB

OriGene Technologies GmbH