Antibodies to MAP Kinases - FocusOn 096
Many different stimuli such as growth factors, cytokines, viral infection, ligands for G protein-coupled receptors and transforming agents activate the mitogen-activated protein kinase (MAPK) pathway.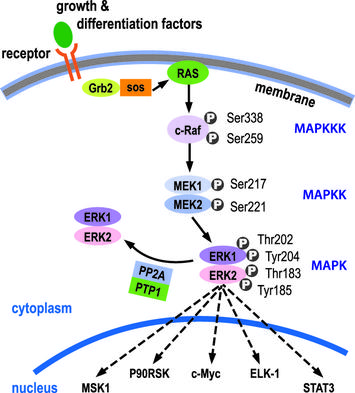 MAPK is also called extracellular signal regulated kinase (ERK). Activation of the MAPK pathway is mediated via monomeric GTPases of the RAS-family. RAS is able to transmit cellular signals from G protein-coupled receptors as well as from receptor (associated) thyrosine kinases, which in turn are mediated via adaptor molecules like Grb2/SOS.
RAS activates the so-called MAPKKK (MAPK kinase kinase) with c-Raf (RAF1) being one of the best described members of this group. Once activated, c-Raf phosphorylates two serine residues in the downstream MAPKK, also called MAP/ERK kinase (MEK). MEK1 and 2 are dual specificity protein kinases and phophorylate the following MAP kinases, the best described members being ERK1 and ERK2, at tyrosine and threonine residues. All MAP kinases known are characterized by their requirement for this dual phosphorylation for full activation at conserved T-X-Y motif.
Upon activation, the MAPKs/ERKs either phosphorylate a number of cytoplasmic targets or migrate to the nucleus, where they phosphorylate and activate transcription factors such as c-Myc and ELK-1.
Today, many different MAPKs/ERKs and MEKs are known and each are activated by different upstream stimuli like growth factors, UV-mediated stress, cytokines or even cell-cell interaction. Other well-described MAPKs are c-Jun N-terminal kinases (JNKs) and members of the p38-MAPK family.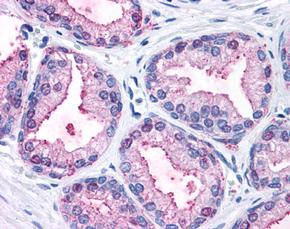 Fig. 1: Human prostate (formalin-fixed, paraffin-embedded, FFPE) stained with Acris MAPK3 / ERK1 antibody Cat.-No. AP03060PU-N at 4 µg/ml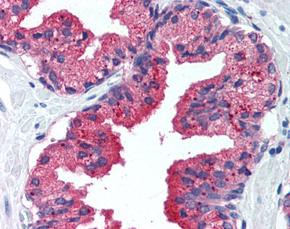 Fig. 2: Human prostate (FFPE) stained with Acris MAPK1/ERK2 antibody Cat.-No.AP08376PU-N at 2.5 µg/ml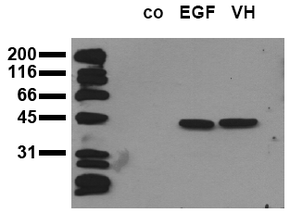 Fig. 3: Phosphospecificity: Whole cell extracts of control (co), EGF stimulated (EGF) or pervanadate treated (VH) SKOV3 tumor cells applied to SDS-PAGE (ca 20,000 cells per lane) and transferred to a PVDF membrane. The WB was probed with Acris ERK1/2 antibody clone 12D4 Cat.-No. AM00084PU-N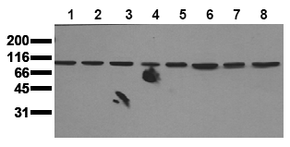 Fig. 4: Detection of endogenous MAPK7/ERK5 whole cell lysates of serum starved tumor cells (20,000 cells per lane) applied to SDS-PAGE and transferred to a PVDF membrane. WB probed with Acris ERK5 antibody clone 12F2 Cat.-No. AM00058PU-N (0.5 µg/ ml): Lane 1: A431; Lane 2: A549; Lane 3: SKOV3; Lane 4: OVCAR5; Lane 5: HaCaT; Lane 6: PC3; Lane 7: HeLa; Lane 8: HepG2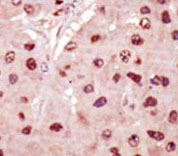 Fig. 5: Human hepatocarcinoma tissue (FFPE) reacted with Acris MEK1 antibody Cat.-No. AP14764PU-N, which was peroxidase-conjugated to a secondary antibody followed by DAB staining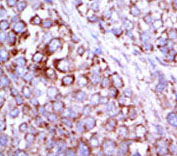 Fig. 6: Human liver cancer tissue (FFPE) reacted with Acris MEK2 antibody Cat.-No. AP14764PU-N, peroxidase-conjugated secondary antibody / AEC staining
Selected Antibody Panel to ERK1–5 and MEK1/2
OriGene Technologies offers a range of thoroughly evaluated monoclonal and polyclonal antibodies to different members of the MAP kinase cascade, including products for immunohistochemical applications on frozen or paraffin embedded sections, immunofluorescence and/or Western blotting. This collection is extended by Abnova antibodies distributed by OriGene Technologies within Europe and the USA. Further products, e.g. antibodies to c-Raf, JNK and p38 MAPK can be found via the above input field 'Search'.
Key References
 

Ji RR et al.: p38 MAPK, microglial signaling, and neuropathic pain.
Mol Pain, Nov 2007; 1: 3:33

 

Fischer AM et al.: The role of Erk1 and Erk2 in multiple stages of T cell development.
Immunity, Oct 2005; 23(4): 431-443.

 

Seternes OM et al.: Activation of MK5/PRAK by the atypical MAP kinase ERK3 defines a novel signal transduction pathway.
EMBO J, Dec 2004; 8; 23(24): 4780-4791. Erratum in: EMBO J, Feb 2005 23; 24(4): 873.

 

Sohn SJ et al.: Transcriptional regulation of tissue-specific genes by the ERK5 mitogen-activated protein kinase.
Mol Cell Biol, Oct 2005; 25(19): 8553-8566.
Primary Antibodies
Catalog No.
Host
Iso.
Clone
Pres.
React.
Applications

AM08205BT-N

Mouse
IgG2a
SB46b
Biotin
Hu
IP, WB

OriGene Technologies GmbH

AM08205HR-N

Mouse
IgG2a
SB46b
HRP
Hu
IP, WB

OriGene Technologies GmbH

AM08205PU-N

Mouse
IgG2a
SB46b
Purified
Hu
IP, WB

OriGene Technologies GmbH

AP02498PU-N

Rabbit
Aff - Purified
Hu, Ms
ICC/IF, P, WB

OriGene Technologies GmbH

+2 additional images

AP02498PU-S

Rabbit
Aff - Purified
Hu, Ms
ICC/IF, P, WB

OriGene Technologies GmbH

+2 additional images

AP02499PU-N

Rabbit
Aff - Purified
Hu, Ms, Rt
ICC/IF, P, WB

OriGene Technologies GmbH

+2 additional images

AP02499PU-S

Rabbit
Aff - Purified
Hu, Ms, Rt
ICC/IF, P, WB

OriGene Technologies GmbH

+2 additional images

AP02741PU-N

Rabbit
Aff - Purified
Hu, Ms, Rt
WB

OriGene Technologies GmbH

+1 additional image

AP02741PU-S

Rabbit
Aff - Purified
Hu, Ms, Rt
WB

OriGene Technologies GmbH

+1 additional image

AP02742PU-N

Rabbit
Aff - Purified
Hu, Ms
WB

OriGene Technologies GmbH

AP02742PU-S

Rabbit
Aff - Purified
Hu, Ms
WB

OriGene Technologies GmbH

AM00086PU-N

Mouse
IgG1
6H3
Purified
Can, Hu, Ms, Rt
E, WB

OriGene Technologies GmbH

Published recently!

AM09368PU-N

Mouse
IgG2b
AT1A4
Purified
Hu
E, ICC/IF, WB

OriGene Technologies GmbH

+3 additional images

Highly validated antibody!

AM09368PU-S

Mouse
IgG2b
AT1A4
Purified
Hu
E, ICC/IF, WB

OriGene Technologies GmbH

+3 additional images

Highly validated antibody!

AM00085BT-N

Mouse
IgG1
6G11
Biotin
Can, Hu, Ms, Rt
E, IP, WB

OriGene Technologies GmbH

AM00085PU-N

Mouse
IgG1
6G11
Purified
Can, Hu, Ms, Rt
E, IP, WB

OriGene Technologies GmbH

AM00086BT-N

Mouse
IgG1
6H3
Biotin
Can, Hu, Ms, Rt
E, WB

OriGene Technologies GmbH

AM08381PU-N

Mouse
IgG2a
4C11C11C4
Aff - Purified
Hu
C, E, P, WB

OriGene Technologies GmbH

AP07464PU-N

Rabbit
IgG
Aff - Purified
Hu, Ms, Rt
IP, P, WB

OriGene Technologies GmbH

AP09076SU-N

Rabbit
IgG
Serum
Hu
E, IP, WB

OriGene Technologies GmbH