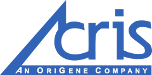 is now part of

Dear valued customer,
I founded Acris Antibodies in February 1998 with the idea to serve the antibody users by developing an easy to use internet platform to search for the best or most useful antibodies for their respective applications.
17 years later Acris Antibodies offers more than 300,000 antibodies and other antibody related products on websites for Europe, US and Asia. In 2011, Acris opened a branch office in San Diego. During the last year Acris Antibodies and OriGene Technologies discussed a possible co-operation in Europe. The result was that effective by September 2015 OriGene acquired Acris Antibodies to combine our strengths.
OriGene Technologies with their huge product line in molecular biology and more than 12,000 monoclonals developed in their labs and Acris Antibodies with additional 50,000 Acris branded antibodies and >200,000 distributed antibodies and proteins are now a new force in the EU Life Science Market.
I would like to say a big "Thank You" to all of our loyal customers during the last 17 years and I look forward to a new era for Acris Antibodies as a part of OriGene Technologies.


Dr. Hans-Joachim Soll
Managing Director
OriGene Technologies was founded 1995 as a research tool company focused on the creation of the largest commercial collection of full-length human cDNAs in a standard expression vector. OriGene Technologies uses a high-throughput, genome wide approach to develop products for pharmaceutical, biotechnology and academic research. The flagship product is the cDNA clone collection, a searchable gene bank of over 30,000 human fulllength TrueClone cDNA collection and over 25,000 TrueORF cDNA clones. From these TrueORF cDNA clones, they have developed the largest offering of full length human proteins expressed in mammalian cells, ideal for functional studies.
In 2010, OriGene initiated the TrueMAB project to develop mouse monoclonal antibodies against protein antigens with the goal to provide protein assays for every human protein.
OriGene is committed to its mission to be "Your Gene Company", in supplying everything a researcher needs for gene based research.
Please find here the press release from OriGene.